BEWATEC Software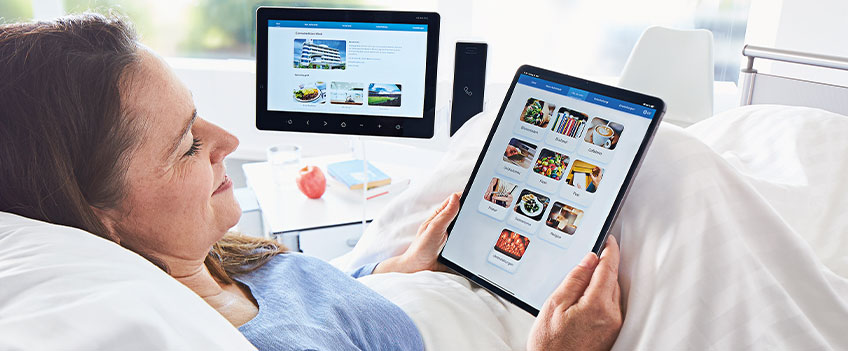 The patient-centered platform
Hospitals today are faced with a multitude of parallel challenges: patients' changing expectations when it comes to information flow and autonomy, being involved in the treatment and receiving high quality service.
A decreasing number of available staff facing an increasing number of patients, with less time for each patient at a growing number of tasks – and not to mention budget shortages in all public and private corporations.
Digital patient journey with the BEWATEC.ConnectedCare App
For patients, BEWATEC.ConnectedCare is a smart user app that supports them before, during and after the hospital stay: They get access to information, comfort elements and entertainment functions. Depending on the level of digitization each hospital can decide where to integrate their patients into the clinical information and process flow before, during and after their hospital stay.
For hospitals, BEWATEC.ConnectedCare is an open platform on which existing or future applications and services (own and / or third-party providers) can be integrated based on their individual needs. It is the tool for the digital relationship and information exchange between hospitals and their patients.
BEWATEC.ConnectedCare: clear benefits for both sides
Involved patients
Digital information exchange
Efficient processes
Reducing the workload on staff
More services and comfort for patients
Communication before, during and after the hospital stay
Smart, flexible, secure
Device and operating system independent
Use of interface standards for the highest degree of interoperability and secure data exchange with the HIS and the EPR. (REST APIs, HTML5, HL7, FHIR, PubSub, MQTT iHE)
End to end encrypted, token-based communication to central systems according to KRITIS
Seamless integration into the hospital infrastructure
The example shows a typical set up of the BEWATEC.ConnectedCare platform with the use of BEWATEC Professional Devices (BEWATEC tablets) in a hospital infrastructure.
Via the BEWATEC.Device Management software, the hospital can configure and administer all BEWATEC tablets in patients' rooms, keep them updated and maintain the hardware. Via the BEWATEC.CMS, the hospital can manage and present hospital content and services on the BEWATEC.ConnectedCare platform. This content is then shown on BEWATEC tablets and on all patient-owned devices (BYOD) via the ConnectedCare user app.