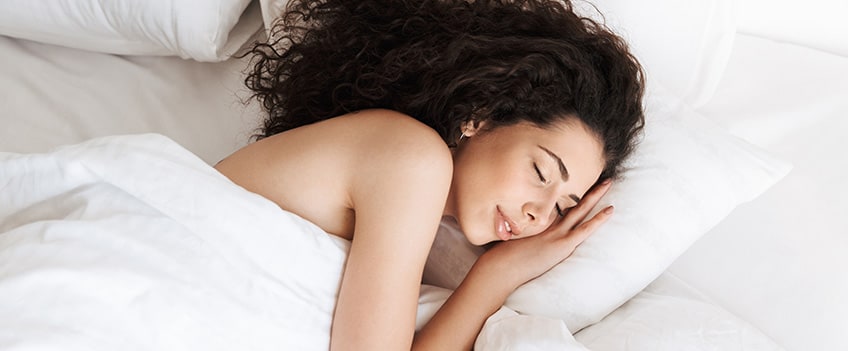 Adjustable comfort beds: individually designed and comfortable
Whether it's an ergonomic reading position or simply raising the feet comfortably: optimal comfort in provided by motorized adjustable beds – operated using push-button handsets or wireless transmitters. Motor-driven box-spring beds are currently quite popular. Adjustable comfort beds must achieve gentle positional changes while at the same time being very user friendly. This is achieved by taking advantage of intelligent components. OKIN is the world's leading provider of drive technology for comfort beds. We cover the entire product range for adjustable comfort beds that can be used in mid-range to high-end applications.
The inventor of the double drive
Bed manufacturers benefit from a wide selection of single and double drives for adjustable beds. As the inventor of the double drive, OKIN benefits from unique experience in the market. Our powerful drive solutions have different adjustment loads of up to 2 x 6,000 N for the head and foot sections. They are also exceptionally energy efficient.
Your reliable partner for project planning
OKIN always works with the customer in mind, so we can provide you with the ideal drive solution. We consider all relevant factors in advance: including the best type of drive for your application, the required stroke, and the option for an individual cable-based handset or a wireless hand-held transmitter. We also implement complex systems for adjustable comfort beds. Here, we tailor all components exactly to the bed and even design customized control keypads and smartphone apps. All end products for adjustable comfort beds are tested intensively in our in-house laboratory. We ensure quick delivery times and have a worldwide sales network that supports our customers with all after-sales issues.
System solutions for adjustable comfort beds
OKIN can implement special systems on request: for example, a system with one or more box-spring beds with different number of motors as well as under-spring systems. By directly connecting multiple control units, different motion profiles for comfort beds can be used and the bed's two twin sections can both be moved synchronously. Thus, both twin sections of the bed can be moved either simultaneously or separately from one another, using only one of the two hand-held transmitters. If, for example, a person with an upright backrest falls asleep, the other person can move the side of their bed partner to a lying position without changing their own position.
Wide variety of options
OKIN offers a wide range of optional components for adjustable comfort beds. Many of these improve comfort, for example, by providing various massage motors, LED lights or USB sockets for charging mobile phones or tablets. OKIN also takes the topic of electromagnetic fields very seriously and offers a mains power cut-off function, even for all wireless-controlled systems. Wireless sockets are also available. This allows the power voltage to be switched off by hand. Many OKIN controllers now feature built-in Bluetooth® which enables wireless connectivity to mobile phones or tablets.